While a realistic estimate of the time necessary to complete orthodontic treatment can be made, it is subject to change due to the growth and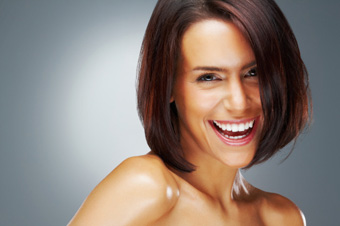 development of your teeth and jaws. However, realize that this is just an estimate made at the beginning of treatment. It may take a few months longer (or shorter) to treat the case properly.
Please be patient and rest assured that the doctors will remove the braces as soon as the case is completed. We are just as interested in removing the appliances as you are, but not at the expense of a good result.
Since teeth have a natural tendency to want to "rebound" slightly to their original position after treatment, retainers are given to ensure that the rebound is controlled. In our office, the retainers are worn to hold the teeth in their corrected position until the bone has had a chance to reorganize and recalcify to the roots' new positions. You must wear them to ensure a successful result.

Typically, retainers are worn one year to 18 months every night. After that, they should be worn as often as necessary to keep the teeth straight. The longer that you wear the retainers, the better the result. In our office, we try hard to make retention as simple and easy as possible.
Fixed Retainers:
Bonded lingual retainers are cemented directly to the inside surface of your lower canines (eye teeth). This is one of the best ways to prevent your lower teeth from shifting as it is permanently attached! Patients with bonded lingual retainers must be careful with their bite as the bonding material may break due to incorrect biting and cause teeth to shift quickly. As with removable retainers, it is important to keep them clean. When brushing, make sure to carefully clean the inside of your lower teeth as well as the wire.
If your retainer breaks at any time during treatment, please do not adjust it yourself. Call us immediately to schedule an emergency appointment.
What We Will Do:
Supervise the first 18 months of your retention. This is included in your original fee. By working as a team, we can ensure you will receive maximum lifetime benefits and make your smile worth the investment.
Provide you with one retainer for each arch. If you lose or break a retainer, please contact our office immediately so we can provide you with a replacement and prevent major shifting of teeth.
Schedule the necessary appointments over the next 18 months.
Monitor the wear and care of your retainers and assist you with any problems.
Observe your wisdom teeth development and keep you and your dentist informed.
What You Need to Do:
Continue seeing your dentist every six months for an exam and cleaning.
Brush and floss thoroughly to protect your beautiful smile.
Wear your retainer as instructed. During the first two weeks, wear your retainer all day and night. After this preliminary period, you can wear them 10-12 hours a day.
Keep your appointments. By missing more than one appointment, you lose control over your retention. Also, we will have to charge for any subsequent visits.
Always bring your retainers to your appointment. This will allow the doctor to make any necessary adjustments.
Take care of your retainers. Clean them daily with your toothbrush and toothpaste. Do not wrap them in napkins as this is an easy way for them to be thrown away. Keep them away from dogs and other animals, as they love to chew on them. Keep them in the retainer case when they aren't being worn. To "freshen up" your retainers, soak them once a week in denture cleaner.
Please contact us immediately if you lose or break a retainer so we can provide you with a replacement before your teeth shift too much. There is a charge to replace lost or broken retainers, so please be careful.
Take care of your retainer models. Please keep them in a safe spot and bring them with you to the office if a new retainer is needed.